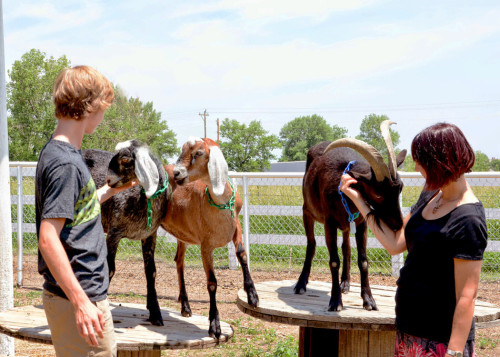 Are you open to trying something new in your healing journey?
Animal-assisted therapy
may be for you!
Are you having trouble coping with anxiety, depression, or grief and loss? Have you suffered a traumatic event in the past that you feel has changed you? Is it hard for you to meet new people, be in a crowd, or feel secure in your surroundings? Perhaps you just feel "off" or uncomfortable in your own skin, or you have a persistent and mean inner critic? Or maybe it seems like no matter how hard you try, life just has other ideas for you.
Despite our best efforts, sometimes life becomes so overwhelming and hectic that we fail to recognize the importance of taking care of ourselves. For instance, some people may find that work and other responsibilities make it hard to focus on personal growth, self-care, and other crucial areas of life. It could be that painful experiences from past relationships make it difficult to pursue new connections and branch out with the same trust you once had. Or it may be that the recent departure of a beloved pet and the companionship that you relied upon make life feel like it's missing an integral piece. Regardless of who you are, sometimes we all face challenges that deserve to be treated with compassion and support. Fortunately, animal-assisted therapy (AAT) can provide you with a space where you can express yourself openly, explore unresolved issues, and start your path towards healing.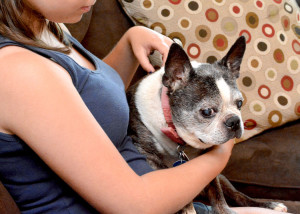 Everyone Has Struggles They Find Hard To Share
Many of us can feel stuck or held back by the automatic mental routines we perform on a daily basis. Overanalyzing situations, worrying constantly, and experiencing bouts of sadness are all common struggles that can interfere with our satisfaction in life. However, animal-assisted therapy can provide you with an approach that fosters comfort, teaches new skills, and allows you to unpack different areas of your life to begin the healing process. 
When we wind up sacrificing our most basic needs in order to beat the deadline, pay the bills, be there for our loved ones, and show the world that we have all our ducks in a row, it's no wonder that stress, anxiety, depression, and trauma responses can begin to bubble up. For some of us, talking about our issues can seem like it's pointless, but healing requires effort and sometimes new approaches and perspectives. 
For some of us, sitting in a therapist's office and talking about our feelings has only gotten us so far. Animal therapy differs from traditional approaches, affording you the opportunity to heal in an open-space alongside animal companions. My crew of farm animals all have their own personalities, histories, and, for some, traumas that make them good teachers and sometimes great friends. While spending time with them, they may console you as you learn to step into unfamiliar emotions, or they may challenge you to learn new lessons like self-compassion, trust-building, empathy, trauma and loss, setting boundaries, overcoming fears, being less judgmental, assertiveness skills, patience, positive affection, and mindfulness as you explore your pain and worries. Animals can also help clients gain skills that bolster self-esteem.  Certainly, horses will stand for nothing less than your authentic self during sessions of equine therapy! I believe our most profound healing occurs when we make insights that allow us to become better versions of ourselves. And, the animals can also have a calming effect that helps some people talk about difficult issues.  In addition, they can add an element of play to the therapy session, something I consider to be an essential component in any journey of self-exploration and self-discovery. My animals have even assisted me through troubled waters, and I'm eternally grateful to them!
What Can I Expect from
Pet Therapy?
My office sits in a peaceful, pastoral setting, surrounded by horse ranches and rolling hills. It is convenient to Boulder, Longmont, and Lyons, but has the feel of being in the country. On your visit, you can expect to be greeted by our goats, 'lil Zeus, Pan, Loki, and Hermes; the alpacas, Elton, Alice and S'more; Sweet Dee, the llama; Mr. Darcy, the farm horse; and four pot-bellied pigs, Oscar and Tiptoe, and Hope and JoJo. Or you can choose to go inside and spend time with one of my therapy dogs, Doug or Marbles.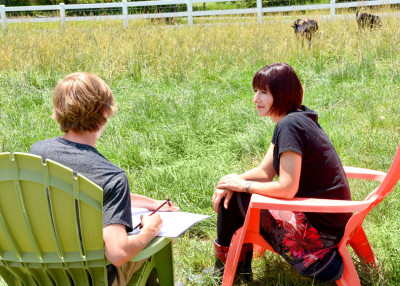 I have a Certification in AAT from the Animal-Assisted Therapy Programs of Colorado and have been practicing this modality for over five years. My approach is built around your individual needs, and as we begin our therapy sessions, you can be assured that we'll move at a pace that you are comfortable with. Most of my clients find that they can draw parallels to their own lives by working with the animals and indirectly learn skills that better equip them for handling obstacles they experience on a daily basis. 
Becoming overwhelmed and overworked is something we all face at some point, but therapy with animals can provide you a relaxing atmosphere where you can alleviate stress, anxiety, and reduce your blood pressure. AAT is also a helpful modality for overcoming feelings of grief after the loss of a pet or loved one. If you're experiencing struggles or hardships that impede your satisfaction and happiness, animal therapy can provide you with the help and support necessary to better equip you for the challenges life may bring.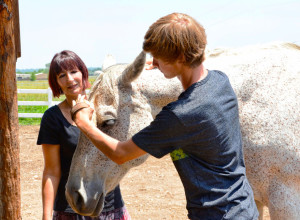 "Research has shown that interacting with a companion animal can lower blood pressure and heart rate and reduce anxiety. It can also improve mood." –Becker M. The Healing Power of Pets: Harnessing the Amazing Ability of Pets to Make and Keep People Happy and Healthy. New York: Hyperion, 2002.
Why do animal-assisted psychotherapy and art therapy go so well together?
I am an art therapist and when I began learning about animal-assisted psychotherapy, I was really struck by the parallels between these two approaches.  In both therapies, the client actively participates, making the therapy session engaging for the client. In addition, metaphor is an essential element in both.  A client's issues can surface in art-making in surprising ways, and similarly, the animals can provide surprising metaphors for the client's real-life situations and social dynamics. Insights can spring from working with the animals and from doing art.  Together, art therapy and animal-assisted psychotherapy make a spectacular partnership!
Perhaps you still have some questions or concerns about animal-assisted therapy…
Is
Animal-assisted Therapy
right for me?
The decision to participate in AAT is completely up to you. If you'd like to simply try it out and meet the animals just to see how you feel around them, that's completely fine. My crew of furry friends will be happy to say hello and greet you on your arrival.
So, what does animal-assisted psychotherapy look like?
Sometimes it is just being in the presence of animals while doing psychotherapy or art therapy that can lift someone and put a smile on their face.  Other times, conversations about the animals may lead to new insights and surprise us. We may relate to their stories and admire their resilience. Yet, other times we are active with the animals, taking them for a walk, teaching them something, or grooming them. Some people may find it easier to speak to an animal than to a person about difficult subjects.  Sometimes it's nice to use our imagination about the animals' worlds as we're relating to them. Through talking about them, getting to know them, walking them, grooming them and playing with them, you will build connections and trust with them, build confidence, and develop empathy, which then you may express through talking, drawing, painting or photography.
How do I know therapy will work?
Although our goal is to promote mental health and cultivate a habit of mindfulness which makes it easier to address distressing thoughts and feelings, therapy's success often depends on the effort and attention you put in. Therapy may be uncomfortable at times, especially as we learn to deal with anxiety-provoking thoughts and feelings, but these sentiments are often temporary as you learn coping strategies and develop more self-awareness. Most people find AAT to be a positive experience that empowers them to make significant improvements and sometimes long-awaited changes in their lives. 
Start Your Path To Healing On The Wild Side
Everyone experiences difficulties at some point in life, and sometimes, refreshing our approaches to healing and evolving  can be a big step in individual growth. If you're considering animal therapy as an option for you, I'd be thrilled to get you on your way to meeting the farm animals, and am happy to answer any questions or concerns you may have beforehand. You can schedule your free consultation by calling me at 720-491-1533 or reach out to me via email.
For more information:
"The Power of Pets in the Recovery From Trauma" by Suzanne Phillips
"Stanford Researchers Find Mental Health Prescription: Nature" by Rob Jordan