A big welcome to Doolittle Farm!
Doolittle Farm sits in a peaceful, pastoral setting, surrounded by horse ranches and rolling hills. It is convenient to Boulder, Longmont, and Lyons, but has the feel of being in the country. Residing at Doolittle Farm are a crew of rescue animals who all live together: our goats, 'lil Zeus, Thor, Mercury and Hermes; alpacas, Elton and S'more; a llama, Sweet Dee; a beautiful, gentle horse, Mr. Darcy; and our two potbellied pigs, Oscar and Tiptoe. Plus our dogs, Doug and Posey, and cats, Yogi and Emily, who live inside. They all have unique personalities and each can be a great friend and teacher to the right person.
What is animal-assisted psychotherapy?  Is it right for you?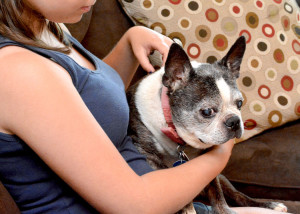 Animal-assisted psychotherapy is a non-traditional and novel approach to psychotherapy.  Clients are active participants, having real and potentially transformative experiences with animals that feed into the therapeutic work.  For example, animals can teach us about empathy, trauma and loss, setting boundaries, shyness and anxiety, love, being less judgmental, perfectionism, and positive affection.  Animals can help clients gain skills that bolster self-esteem.  Animals can also have a calming effect that helps some people talk about difficult issues.  And they can add an element of play to the therapy session, something I consider to be an essential component in any journey of self-exploration and self-discovery.
So, what does animal-assisted psychotherapy look like?
Sometimes it is just being in the presence of animals while doing psychotherapy or art therapy that can lift someone and put a smile on their face.  Other times, conversations about the animals may lead to new insights and surprise us.  We may relate to their stories and admire their resilience.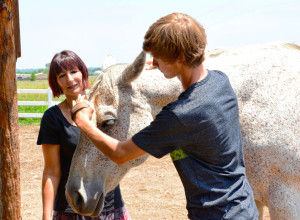 Yet, other times we are active with the animals, taking them for a walk, teaching them something, or grooming them. Some people may find it easier to speak to an animal than to a person about difficult subjects.  Sometimes it's nice to use our imagination about the animals' worlds as we're relating to them. Through talking about them, getting to know them, walking them, grooming them and playing with them, you will build connections and trust with them, build confidence, and develop empathy, which then you may express through drawing, painting or photography.
"Research has shown that interacting with a companion animal can lower blood pressure and heart rate and reduce anxiety. It can also improve mood." –Becker M. The Healing Power of Pets: Harnessing the Amazing Ability of Pets to Make and Keep People Happy and Healthy. New York: Hyperion, 2002.
Why do animal-assisted psychotherapy and art therapy go so well together?
I am an art therapist and when I began learning about animal-assisted psychotherapy, I was really struck by the parallels between these two approaches.  In both therapies, the client actively participates, making the therapy session engaging for the client.  In addition, metaphor is an essential element in both.  A client's issues can surface in art-making in surprising ways, and similarly, the animals can provide surprising metaphors for the client's real-life situations and social dynamics. Insights can spring from working with the animals and from doing art.  Together, art therapy and animal-assisted psychotherapy make a spectacular partnership!
What's unique about HealChangeGrow at Doolittle Farm?
Therapy at Doolittle Farm is unique in that I like to "shake up" the therapy sessions.  Sometimes we will be walking through pastures outside.  Other times you might be doing artwork outside while watching the animals graze lazily in the fields.  You may even teach a goat a trick. Or, you might be inside the office, but with a dog or cat to stroke as you describe a difficult experience or memory.  We will discuss the possibilities and what you are comfortable with, and we'll make it the best experience that it can be!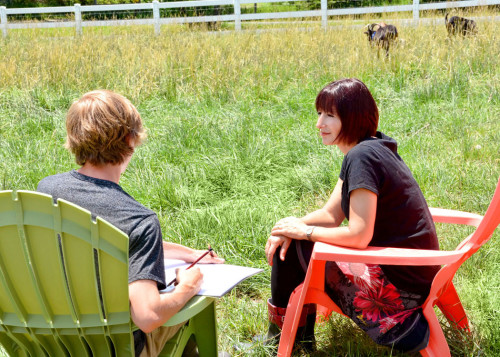 For more information:
"The Power of Pets in the Recovery From Trauma" by Suzanne Phillips
"Stanford Researchers Find Mental Health Prescription: Nature" by Rob Jordan